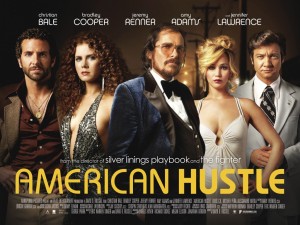 Last night I watched American hustle. I enjoyed the movie, but, honestly the thing I liked the most were the girls' outfits. All these low-cut dresses, that fit just perfect to the two actresses – Amy Adams and Jennifer Lawrence, are just fabulous!
I was watching the movie and in every scene I exclaimed "Oh, this dress is gorgeous!" or "Oh, I want this skirt/blouse/coat!".
The '70s crime has 10 Oscar nominations, including one for costume design. The costume designer of the movie Michael Wilkinson says for Popstyle: "The most surprising thing for me is that people seem to have had a personal reaction to the film. They really love the clothes… There's talk of a reemergence of 70′s styling in the way people are dressing themselves… That was something we absolutely weren't thinking about when we made the film."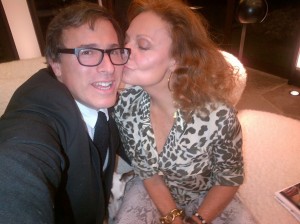 One of the dresses Amy Adams is wearing in the movie is a vintage piece by Diane von Fürstenberg (on the picture with the director of American hustle David O. Russell) . It had a little stain on it, but they shoot it. It is realistic, because Amy character takes abandoned designer clothes from the dry-cleaning store of her crime partner and lover – Christian Bale's character.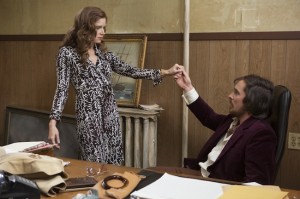 Jennifer Lawrence's white dress is going to the Hollywood Costume exhibition. There is a funny story about this dress. The actress damaged the gown with… Dorito dust. Fortunately, the costume department made four different versions of the dress. It was cheap to make. Wilkinson found a fabric that cost $3.99 a yard.
I just loved all the vintage dresses, fur coats, big earrings and sunglasses the two women are wearing in American hustle. Amy Adams character outfits fit better my personal style, if I have to be honest. I would watch the movie one more time just because of the outfits, really. Good luck, Michael Wilkinson. I hope you get the costume design Oscar!
Take a look at American hustle's trailer:

And some of my favourite outfits from the movie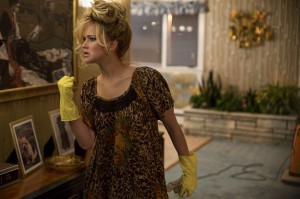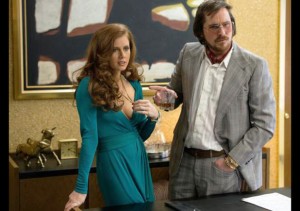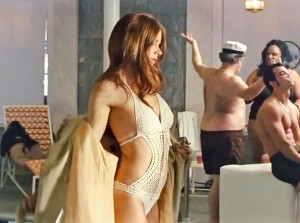 Latest posts by Bethany Thomson
(see all)