Renovations, new constructions, and building partial extensions sound exciting, no doubt. Whether it's home or office or a retail shop, the vibe of experiencing something new probably thrilled you.
But, you must not ignore the fact that renovations leave behind a mess in need of professional post-renovation cleaning, and that's stressful.
Renovations might take months in the works, and the amount of debris that it's going to produce is also going to be massive. But amid this dust lies your incredible project, and you are a few steps away from witnessing perfection.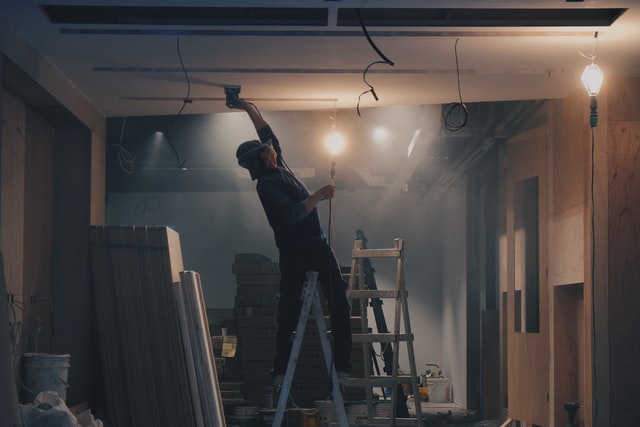 So, as soon as the construction or renovation is over and the hired contractors leave, it is your time to gear up for the post-renovation cleaning. Remember, if your lungs are sensitive, then never forget to wear a mask during the cleaning process. 
A post-renovated space has dust and certain chemicals, which can affect your health if inhaled for too long.
So, your first step should be to open the windows, let in the fresh air, and then go through these DIYs to make your renovated area spotless. Here's a guide from Thomsons Maintenance Services on how you can deal with post-renovation cleaning.
Things that are Mandatory for Post-Construction Cleanup
Don't dive into the cleanup procedure without being fully equipped with the cleaning essentials. Regardless if you are a homeowner, fresh BTL landlord with a checklist, or investor, post-renovation cleaning is entirely different from regular cleaning, comment tradesmen at Atdoorstep Services. Without proper planning or schedule, things can become even more time-consuming and hectic than it appears.
So, equip yourself with these cleaning gears and proceed with a plan. You won't only face dust, but along with that wood chips, sealants, iron pieces, cement, organic solvents, nails, and more:
Protection masks, gloves,
Garbage bags (plenty),
Several packs of cleaning cloth,
Disinfecting products,
High-quality cleaning agents.
Besides this, you might require vacuum cleaners, brooms, tape, mops, etc. If you are confused about which cleaning agents to pick, then check the composition. The compatibility of the cleaner with the surface where you would apply them matters.
Don't take any chances with the elegance of a newly renovated adobe.
Working Tips for Post-Renovation Cleanup
There is a possibility that you might have left behind your furniture and appliances during the renovation or minor home improvement. The contractors must have wrapped everything up with plastic covers. But, you can't escape the enormous amount of dust and debris when the renovation is over.
So, these in-depth post-construction cleaning regimes are here at your rescue:
Start with Vacuum Cleaners
Dust particles are everywhere, and to deal with them efficiently:
Start vacuuming.
Pick the proper attachment.
Start from ceilings, walls, upholstery, curtains and every nook and corner.
If you have just renovated your house, do not forget to take extra care of your kitchen, bedroom, and bathroom—particularly the walls, ceilings, and floors of these rooms.
Remember to vacuum beneath your furniture and on top of your appliances as well.
Check Air Filters
Peek into the air filters, and they must trap trillions of debris and unwanted particles.
If you ignore them, they will fail to maintain airflow and stuffy air could cause various moulds and fungi. And also, there is a fair chance that they can burst anytime due to dust accumulation, particularly when you turn on the air conditioner.
If you check the air filters, they must have gone through massive damage and are no more in excellent condition. Then, replace them immediately, because now the concern is your health.
Additionally, you can use a dedicated air filter cleaner in the future to stop dust migration.
Wipe Everything
Only sweeping and vacuuming don't guarantee the place to be free from dust.
According to UnsustainableMagazine.com, you should:
Dry dusting is the only safe option for walls that have received a fresh coat of paint.
But, if you can still encounter dirt, bring out the cloth wipes. You have invested in packs of good cloth wipes.
Therefore, dap clothes to some extent and carefully wipe every surface.
Be extra cautious when you apply the same damp cloth on renovated and painted walls.
Wipe table surfaces, kitchen cabinets, shelves, furniture surfaces, and after you are done, focus on the floor, especially with wood and hard stone.
Mop the floors with proper disinfectant, use a permitted disinfectant over the walls, too.
Before you use any disinfectant, contact the painting contractor or expert. They would confirm whether the product is safe and won't damage your new creation.
Window Cleaning – A Must
After any construction work, windows and their frames are primarily affected and equally dirty and dusty. So, take your time and concentrate on cleaning the windows and frames. You might require specific cleaning agents depending on the material of the windows and frames.
According to CleanerConfessions.com, tips apply:
Wipe the windowpane along with frames.
Using only water or soap can leave the glass with unwanted spots.
So, use dedicated tools, cleaning agents, and everything else to keep them squeaky clean.
Well, if all these appear pretty troublesome for you, and if the cleaning agents make you sneeze, then calling in a professional cleaning service would help.
Consider our professional window cleaning services to help you.
Additional tips
Apart from dusting, mopping walls, floors, ceilings, certain things need specialised cleaning after renovation, such as:
Dusting lamps and light fixtures
Picture frame cleaning
Washing walls
Cleaning and washing blinds
Cleaning the appliances
Changing and cleaning bedding
Washing dishes
Garbage removal
After you accomplish your cleaning, use those garbage bags to accumulate all dirt and debris inside them and dispose of them in particular bins. 
According to professional hub CityLocal101, hiring a junk removal service is a guarantee of a job well done, as experts have the know-how and experience to take care of rubbish fast and without causing extra problems.
Perks of Post Renovation Cleaning
Are you still questioning why you need to pre-plan for a post-construction cleaning regime?
Let's answer that as well. It is entirely different from deep cleaning and requires more effort and overall dedicated techniques. Further, the cleaning and disinfectant chemicals should be appropriate to deal with the recent paint, surfaces, and floors.
Post-renovation can lead to hazardous chemicals and fumes, no matter how sustainable your home is. If you lack the knowledge and tactics, then hiring a professional post-construction cleaning service would reduce the cleaning headache and leave you to carry eco-friendly green cleaning on your own.
Before you hire cleaning services from professionals, remember to check their ratings and client reviews. Yet, it is a wise decision to take references of your friends and family when booking professionals.

Latest posts by Bethany Thomson
(see all)