The yard is the greatest treasure of every house and a great privilege if you have greenery that surrounds you. But it can feel overwhelming getting your backyard in order. This task can seem time-consuming, and you may feel like there is no point, because you will have to do it soon. But if you organise your yard nicely, cleaning it can be fun and easy. With some inspiration, it is possible to achieve a significant result. Here are some tips to make your yard organised because keeping it clean and tidy is worth the effort.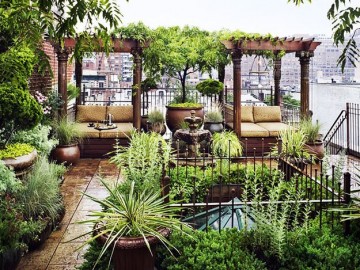 Organise Your Plants
It would be easier to care for your plants and decorate your yard if you organise them into pots, garden trellises, or garden beds. This way your yard will look well maintained, clean, and beautifully decorated at the same time. Garden trellises are perfect if you don't have a lot of space. They can also mask the parts of your garden you don't want to be seen. Maybe your shed needs renovating, or you have a sitting area you want to conceal from unwanted looks. The yard is the perfect place to show off your creative side.
Look into potted flowers & plants, and backyard decor that represents your style or blend with interior decoration and give your home a cohesive look.
Choose Your Plants Smartly
Invest most of your budget in plants, trees, shrubs, and flowers native to your area, as they are most likely to bloom. Use companion-friendly plants. You can split them the next year and fill the flower garden then.
Start by planting seeds indoors and buying plants and trees in late summer when they are on sale.
Paint the Gate
Although the gate is not the first thing that comes to mind when thinking about the yard, it is still an integral part of it. If you notice that the colour is fading from prolonged exposure to the sun and wind, paint it as soon as possible and prevent your home from looking untidy.
Choose a colour that will go nicely with your yard and house. This is an opportunity to compliment the colours in your garden with the one you choose for your gate.
Remove Unused Objects
To keep the yard clean, it is essential to remove old, broken, or frequently unused objects from the passable area. These pieces end up being littered in your yard, and they make it look like rubble.
Objects used occasionally, such as watering cans and garden maintenance instruments, can be kept and organised in a proper cabinet in the external area, a shed, or crate.
From the rest, you can make something beautiful and creative, like a swing made from old tires, or if you can't find them a purpose or a new home, it might be time to throw them out.
Removing these pieces from your yard will not just improve its look, but will also create a freer circulation through space.
How to Maintain Your Green Grass
In backyards with lawn, it is necessary to mow the grass periodically, usually when it exceeds about 2 to 3 inches in height. This will also keep the outside area looking clean, and well looked after. Avoid cutting it at tiny intervals, as it can lose nutrients and be very vulnerable to pest contamination.
Although the cut straw can be decomposed by the soil itself, sweeping the lawn will keep your yard more beautiful and leave the ground with more aeration and light, ensuring the proper development of the grass. Also, the temperature and humidity will this way be lower, reducing the risk of disease. If it hasn't rained during the week, take the time to water the lawn. If the yard has spaces with soil, watering it on warmer days reduces the dust that rises with the wind, keeping the house cleaner.
A tip, in this case, is to invest in vegetable gardens to occupy the empty area and put stone paths to avoid dirt.
Use Mulch
When you want to bring colour to your green yard without disturbing your natural harmony, choose mulch. Don't confuse mulch with compost, though.
This natural organic material is used as a base for walking paths, as a blanket around plants, and as a landscape and aesthetic element. It prevents weeds from growing; it protects plants from the heat in summer and cold in winter, keeps soil moisture, prevents erosion, and gives an excellent appearance to the surrounding area.
Use Dirt-free Concrete
For spaces with concrete, the ideal is to dust tables and chairs with a damp cloth. Then, sweep the entire area with a broom, removing fallen leaves and other debris that may clog drains.
To wash concrete, experts at Build Search recommend neutral detergent and a hard-bristled broom to scrub, or use a high-pressure cleaner. When disinfecting, never mix cleaning products, as they lose their bactericidal effect.
Another way to keep concrete clean for longer, especially the stone, is to waterproof it. Before applying the waterproofing, it must be clean and dry. After the procedure, cleaning and maintenance must be done with a neutral detergent.
A tip from We're All About Pets is to remove the smell of urine from pets is to pour a little vinegar on the spot where the pet usually pees and let the product act for 20 to 30 minutes, cleaning with water afterwards.

Latest posts by Bethany Thomson
(see all)