Keeping a house clean with dogs is difficult, we agree. But what's worse is keeping your expensive carpet clean with a doggo constantly playing on the rug.
This is why Thomsons Cleaning shares these 7 tips and tricks to make your carpet cleaning easier. With playful, sweaty dogs any carpet would start to smell and soon turn your whole house into a kennel.
However, if you follow these simple methods for carpet cleaning, it will increase the durability of your precious carpet while keeping your house stench and dust free.
1. Be Prepared To Be Besties With Your Vacuum Cleaner
If you happen to own a dog, you must also own a good vacuum cleaner. It's a piece of equipment that will make your life much easier and you'll thank the internet for making you come across this article. Trust us.
With a dog that sheds and loves to lie on the couch, sofa, bed, pillows, everywhere, a vacuum cleaner is the only DIY solution to help you get rid of fur from your delicate carpet.
2. Steam Clean That Rug Of Yours And Thank Me Later
We get it, you have a good doggo who doesn't spill on your carpet.
Now, just because there is no mess, that doesn't mean your carpet won't need professional cleaning.
If you choose to use the carpet and rug cleaning services of the company, you will receive:
A fixed price, no hidden fees;
A free price offer and no deposit for booking;
Same day emergency cleaning is available;
Available 365 days a year;
All stains will be pre-treated, and upon request, the carpet can be deodorised.
Steam clean your carpet once a month so that you can cleanse your carpet well and keep it hygienic. If you have kids in the house, who tend to put everything in their mouth, cleaning your carpets properly is extremely important.
For regular domestic cleaning, we do offer general house cleaning at your disposal.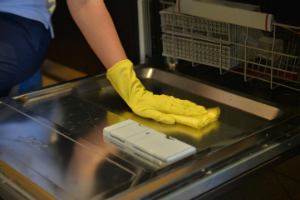 You might think that it's an unnecessary expense, but it's actually an investment. Rather than renting a cleaner, it's much more economical in the long run to just buy one, especially if you just got a fancy Persian rug.
3. No Odor Or Stains Doesn't Mean Clean Carpets
Sorry to break it to you, but you do not have microscopic vision. So, it's nearly impossible to see the hidden bacteria and germs in the fabric of your carpet.
Take hygiene seriously. Please. Vacuum regularly to get debris out of your favourite rug which quite sneakily hides the crumbs in between the wool or freeze.
Pro Tip: Do not take the vacuum too close if the carpet is made of faux fur. It will then suck the fuzz out of the rug.
However, if a nasty odour is indeed present, get a pet purifier for the smell.
4. Too Much Cleaning Doesn't Make Everything Better
We get it, you care about your carpets and want to wash it every week. But it's high time you stop sucking the life out of your precious are carpet by cleaning it every day. Let it rest unless your four-legged fur ball spills soda on your fancy carpet.
Also, stop using too many carpet cleaning solutions to remove stains. Stick to one method and one product. You can also try carpet softener if it becomes too stiff from all the washing.
Pro Tip: Look for a cleaning product that is suitable for the fabric of your carpet. Carefully check the bottle of the cleaner before making your next purchase.
5. Stop Ignoring The Mess Like You Ignore All Your Problems!
What a nice carpet, huh? It'd be a shame if something happened to it. Unless of course if you start taking cleaning seriously.
Your dog is just hyper and a bit jumpy, so accidents are inevitable. A bit of wine or coffee spills every other day is something you can possibly stop from happening. It's best if you make peace with that and start cleaning the mess while there's still time.
Pro Tip: Dab the wet area with paper towels to dry it instantly.
Do not let the stain sit. Clean it while it's still fresh because chances are you'll get rid of it more easily. Use cleaners if your dog urinates on your carpet and keep your carpet sterilized, dog owners!
Note: If leaving a rental, you should not hesitate to book our professional end of tenancy cleaning services.
6. Stop Relying On Temporary Solutions
Listen, sweetie, just because you use a bit of carpet deodorizer or used some fine powder it doesn't automatically clean your carpet.
It does more harm than good to your carpet. Those chemicals in the carpet cleaners can also cause your dog allergies or the dust can cause asthma for you as well. So it is always better to steam clean it in a few weeks' intervals and save your lungs from toxic air.
After cleaning the carpet, we would recommend ensuring the carpet to be dry so that the wet carpet stench does not sit in and smells fresh.
7. Know How To Scrub Your Carpet
Dear carpet owner, the first step of cleaning a carpet is to know the type of carpet you have. There are many fibre types of carpets and each has to be cleaned differently.
You cannot just scrub the life out of a faux fur carpet and expect it to look all fabulous again after the intensive wash. So, it's always best to understand the cleaning method before taking it for cleaning.
Many carpets have insulating properties which make it feel warm under the feet. These hold on to stains and odours. So choose the appropriate cleaning method.
Conclusion
We understand it's not easy to find a cleaning method or set a cleaning routine for your carpet. With a dog in the house, there's always so much more to do than just worrying about carpets.
To make your life a bit easier, consider buying carpet cleaners which will save you time and hard work. There are various kinds of carpet cleaners designed to remove odours and stains, so choose wisely for a better cleaning experience.
We would suggest you follow these simple techniques to live in harmony with a dog as well as a carpet, or you can just throw the rug once and for all. The choice is yours. Happy cleaning, everyone!
For company details, learn more about us or get in touch directly.

Latest posts by Bethany Thomson
(see all)